100% clean & delicious–filling and healthy protein shakes
Sale price
$99.99
$149.99
Regular price
Unit price
per
Save on every order + free shipping.
Free enrollment in our Juice Club Membership.
Pause or swap at any time. Minimum 2 shipments required.
View full details
Overview

These protein shakes are nutritionist-developed to be a complete meal, with the ideal balance of macronutrients and micronutrients in each bottle. Each meal replacement shake is full of antioxidants, prebiotic fiber, and essential vitamins and minerals, especially magnesium, calcium, and potassium to make them an ideal post-workout refuel. The healthy fats and carbohydrates in each bottle provide calories to satiate you so that you are not hungry again until your next balanced meal.

The shakes have the highest protein content of any of our traditional smoothie flavors. And while every Raw Generation smoothie is extremely nutritious, these protein shakes are actually meant to be a complete meal due to their higher calorie counts and premium nutrition.

At Raw Generation, we believe in using only high-quality ingredients from 100% whole foods. If you look at the ingredient list on any of the bottles from companies like Slimfast, Orgain or Soylent, you will find countless words you have likely never heard of – protein blend isolate, MCT, maltodextrin, lecithin, and many more.  Our high protein shakes contain only 5 ingredients from non-GMO fruits, veggies, nuts, and seeds.

Powders and chemical sugars give typical protein shakes a chalky, sickly sweet taste experience. Nothing like that here. Don't sacrifice flavor to get grams of protein. These 100% clean vegan meal replacement shakes are also 100% delicious in both taste and texture.
What's Included & Ingredients
Nutrition facts
Shipping & Returns

Expect 1-3 business day transit time. All orders are shipped Monday - Friday.

Free shipping available with Autoship (does not apply to Hawaii or Alaska).

Juices will arrive frozen for optimal freshness. Reminder to keep an eye out for multiple shipments if you ordered more than one item.
WHAT WILL THIS PRODUCT DO FOR ME?
Increase your plant-based protein intake
Provide you with ready-to-drink complete nutrition
Satisfy unhealthy sweet cravings
Boost your energy levels naturally
Help with healthy weight management
Why Raw Generation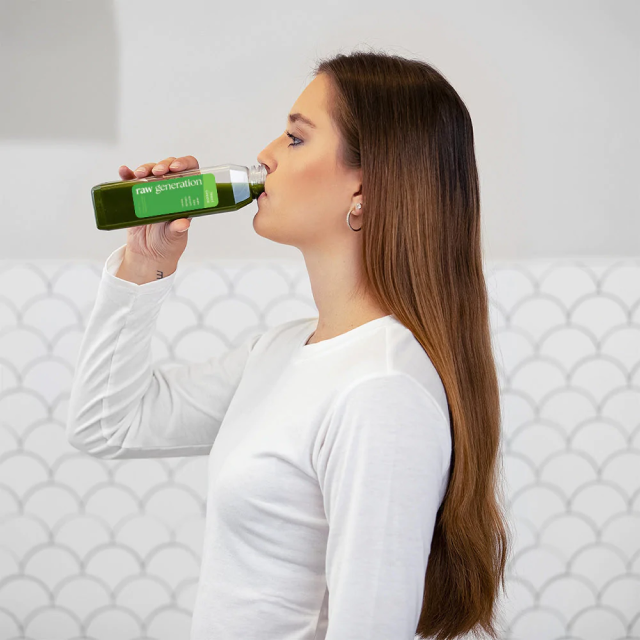 ALWAYS FLASH FROZEN
Flash freezing our products is something we will never change. Why? It's the only way to truly preserve and lock in flavor, nutrients, and enzymes. Other brands essentially cook out all these good things with their processing methods. Not us. This is as close to juicing at home as you will get. And even better, frozen means you can enjoy them whenever you want.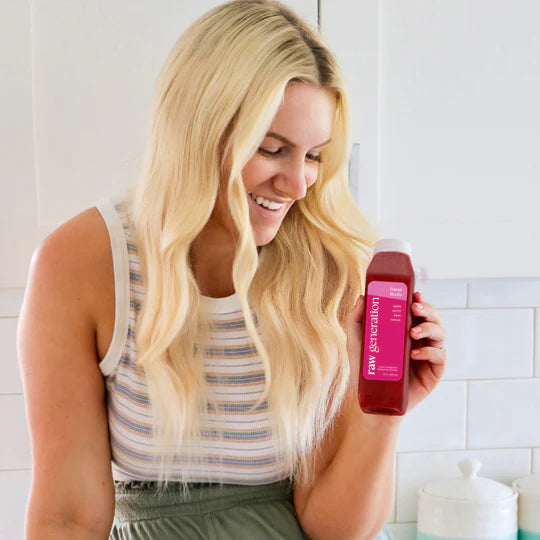 ONLY CLEAN, REAL-FOOD INGREDIENTS
When you put real food in your body, real changes will start to happen. Our cold-pressed juices, smoothies, and plant-based snacks are all made with ingredients that come out of the ground, not a laboratory. 100% real, nothing artificial. Ever.
HEALTHY SHOULD TASTE GREAT
How can you stick to something that you don't enjoy? You won't. That's why we prioritize flavor in everything we create. Our Quality Assurance team has strict standards, and if a product is not a 10/10 during the taste-testing phase, then it won't be coming to your door.