Your post-cleanse weekly weight loss system
Sale price
$124.99
$149.99
Regular price
Unit price
per
Save on every order + free shipping.
Free enrollment in our Juice Club Membership.
Pause or swap at any time. Minimum 2 shipments required.
View full details
Overview

Many traditional weight loss programs believe in restricting calories and have strict guidelines regarding portion control. They use chemicals and processed ingredients and dietary supplements, yet they still seem to remain a top pick in the weight loss industry. Other companies like Noom or Weight Watchers require you to log each meal on your phone which is extra work added to an already busy day.

At Raw Generation, we believe in fueling your body with nutrients, not highly processed, low-calorie diet trends that won't keep you satisfied. We strive to make achieving a healthy weight both easy and delicious. The Stay Skinny Method™  uses only clean, raw ingredients that taste great, so dropping body weight and keeping it off happens naturally. That's why many consumers are telling us this is the best weight loss program they've tried.

Drink a green juice every morning to eliminate unhealthy

cravings

. Eat ALL the fresh, ripe fruit you want until lunchtime. If you desire something more substantial, you can enjoy any of the Healthy Sweets or "free foods" from the Stay Skinny Method™  recipes. 

Drink a meal replacement smoothie for lunch, after 1 pm. If hungry before dinner, snack on raw vegetables, baked potatoes, or any of the "free foods" from the Stay Skinny Method™ recipes. 

Drink a Skinny Boost ™ before dinner to improve digestion and eliminate bloating. Then eat a balanced, clean dinner.  

It's just that simple. That will allow you to maintain the weight you've lost from a cleanse AND lose up to an additional 3 pounds per week. Alongside other healthy lifestyle choices like moderate physical activity or workouts, you can experience the many health benefits of a diet that is high in fresh and raw plants.
What's Included & Ingredients
Nutrition facts
Shipping & Returns

Expect 1-3 business day transit time. All orders are shipped Monday - Friday.

Free shipping available with Autoship (does not apply to Hawaii or Alaska).

Juices will arrive frozen for optimal freshness. Reminder to keep an eye out for multiple shipments if you ordered more than one item.
WHAT WILL THIS PRODUCT DO FOR ME?
Maintain post-cleanse weight loss
Continue losing 2-3lbs per week
Increase your energy levels naturally
Eliminate uncomfortable bloating
Improve your digestion & overall gut health
Why Raw Generation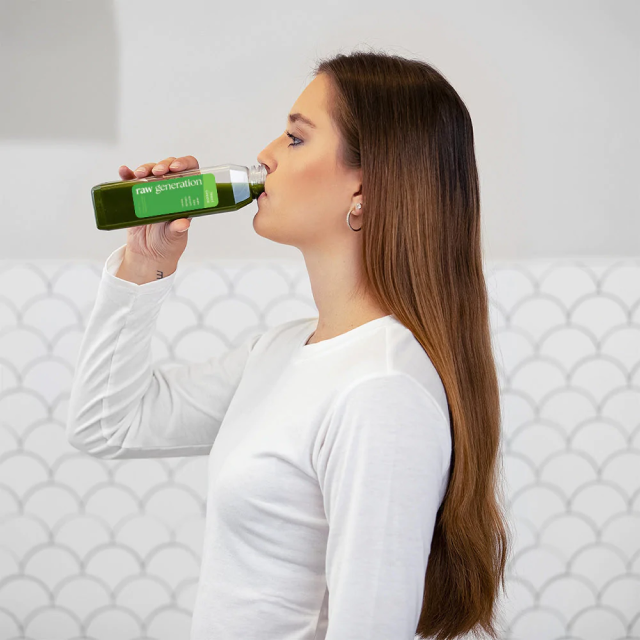 ALWAYS FLASH FROZEN
Flash freezing our products is something we will never change. Why? It's the only way to truly preserve and lock in flavor, nutrients, and enzymes. Other brands essentially cook out all these good things with their processing methods. Not us. This is as close to juicing at home as you will get. And even better, frozen means you can enjoy them whenever you want.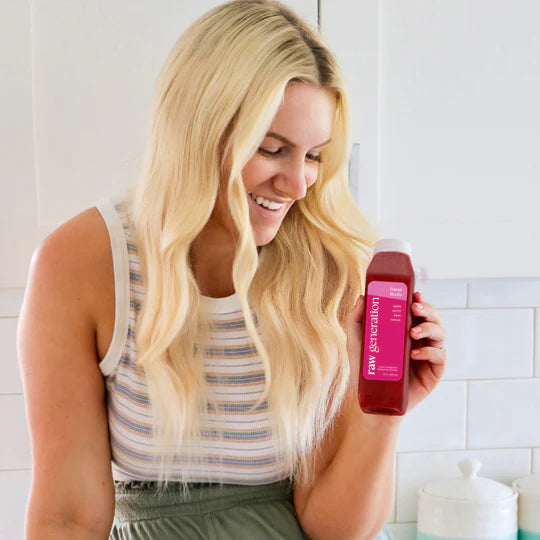 ONLY CLEAN, REAL-FOOD INGREDIENTS
When you put real food in your body, real changes will start to happen. Our cold-pressed juices, smoothies, and plant-based snacks are all made with ingredients that come out of the ground, not a laboratory. 100% real, nothing artificial. Ever.
HEALTHY SHOULD TASTE GREAT
How can you stick to something that you don't enjoy? You won't. That's why we prioritize flavor in everything we create. Our Quality Assurance team has strict standards, and if a product is not a 10/10 during the taste-testing phase, then it won't be coming to your door.