Restore your gut health and improve digestion naturally
Sale price
$149.99
$189.99
Regular price
Unit price
per
Save on every order + free shipping.
Free enrollment in our Juice Club Membership.
Pause or swap at any time. Minimum 2 shipments required.
View full details
Overview

Each nutrition shake in the Higher Fiber Gut Reset pack has 5-7 grams of fiber, making them nearly double a single serving of popular dietary fiber supplements like Metamucil and Benefiber. Get all of the benefits of increased fiber from raw all-natural foods, not synthetic additives. According to the Mayo Clinic, a high-fiber diet can help you maintain regularity and bowel health, lower cholesterol, control blood sugar levels, and help you achieve a healthy weight by keeping you satisfied longer. 

These high-fiber protein shakes also provide up to 14 grams of protein per bottle, making it easier to reach your desired protein intake for the day. This protein is 100% clean, sourced solely from whole food plant sources like nuts, seeds, fruits, and veggies.

You can get your full complement of amino acids (ie - complete protein) without all the junk you find in other high-protein shakes. Unlike the protein drinks from larger companies like Premier Protein, Ensure, or Owyn, we never use protein powders, pea protein, protein concentrates, whey protein isolates, or synthetic milk proteins in our high-fiber protein shakes.

At Raw Generation, we take pride in our ingredient integrity first and foremost. We never use added sugars, artificial sweeteners, artificial flavors, or preservatives in our nutritional drinks or protein bars. We are 100% non-GMO, kosher, gluten-free, and dairy-free (meaning we are safe for anyone with a lactose intolerance).

What's Included & Ingredients
Nutrition facts
Shipping & Returns

Expect 1-3 business day transit time. All orders are shipped Monday - Friday.

Free shipping available with Autoship (does not apply to Hawaii or Alaska).

Juices will arrive frozen for optimal freshness. Reminder to keep an eye out for multiple shipments if you ordered more than one item.
WHAT WILL THIS PRODUCT DO FOR ME?
Eliminate uncomfortable bloating
Boost energy levels naturally
Satisfy unhealthy sweet cravings
Why Raw Generation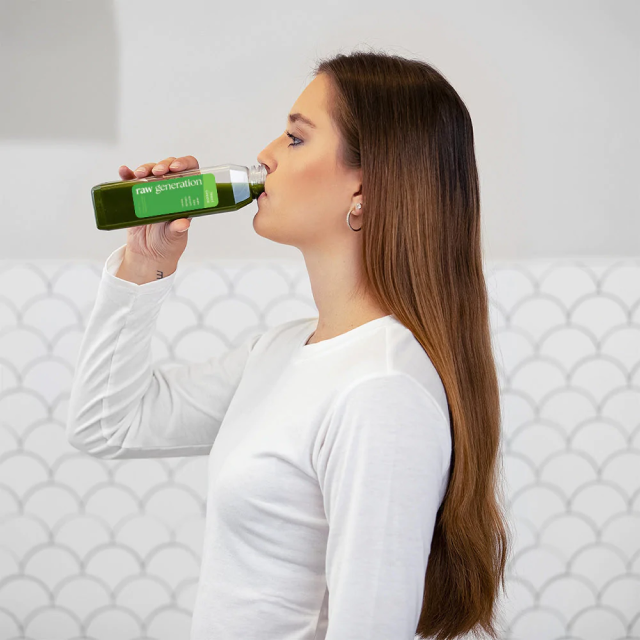 ALWAYS FLASH FROZEN
Flash freezing our products is something we will never change. Why? It's the only way to truly preserve and lock in flavor, nutrients, and enzymes. Other brands essentially cook out all these good things with their processing methods. Not us. This is as close to juicing at home as you will get. And even better, frozen means you can enjoy them whenever you want.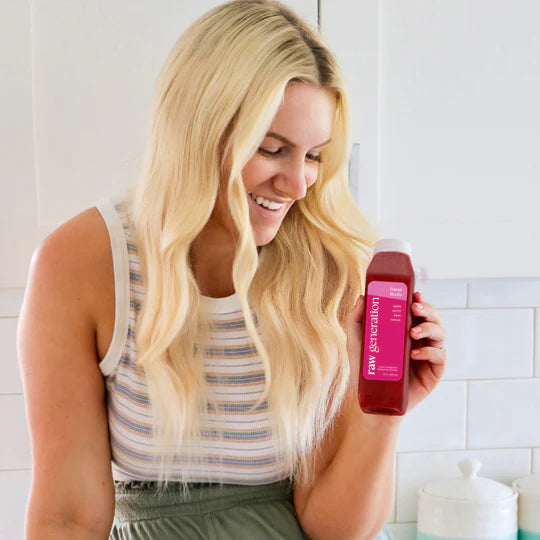 ONLY CLEAN, REAL-FOOD INGREDIENTS
When you put real food in your body, real changes will start to happen. Our cold-pressed juices, smoothies, and plant-based snacks are all made with ingredients that come out of the ground, not a laboratory. 100% real, nothing artificial. Ever.
HEALTHY SHOULD TASTE GREAT
How can you stick to something that you don't enjoy? You won't. That's why we prioritize flavor in everything we create. Our Quality Assurance team has strict standards, and if a product is not a 10/10 during the taste-testing phase, then it won't be coming to your door.