A selection of 5 fan-favorite flavors of natural cold-pressed juices
Sale price
$124.99
$149.99
Regular price
Unit price
per
Save on every order + free shipping.
Free enrollment in our Juice Club Membership.
Pause or swap at any time. Minimum 2 shipments required.
View full details
Overview

Experience the freshest, best-tasting juice you can find with our variety pack of fan-favorite flavors. You will never go back to the type of juice you find in the grocery store. That's because our cold-pressed juices are immediately flash-frozen to preserve all of the flavor, nutrients, and enzymes that other brands cook out. 

Other juice brands use high-pressure processing (HPP) or pasteurization to allow the juices to last longer. In reality, these processes also destroy beneficial nutrients and enzymes that are normally abundant in raw juice. Both of these processes alter the natural flavor of fresh juice, causing companies to use additives, sugars, and sickly-sweet artificial sweeteners. They also add preservatives that prolong shelf life, allowing juices to last for months on shelves – eek.

At Raw Generation, we are committed to raw, real ingredients. Processed junk is never a part of our recipe. We never heat or high pressure-treat our juices and smoothies, which allows you to get all of the flavor and nutrients nature intended to boost your health and wellness.

These best juice recipes are loaded with concentrated vitamins, minerals, and antioxidants like vitamin C, which helps boost your immune system. Every green juice is packed with nutrient-rich leafy greens to help you cut cravings, lose weight, and improve overall gut health.

Plus you can get in all of your essential vitamins and minerals without having to waste time cooking or scrubbing your juicer. Keep your high-speed centrifugal juicer in storage. Convenience and accessibility are what we strive for.
What's Included & Ingredients
Nutrition facts
Shipping & Returns

Expect 1-3 business day transit time. All orders are shipped Monday - Friday.

Free shipping available with Autoship (does not apply to Hawaii or Alaska).

Juices will arrive frozen for optimal freshness. Reminder to keep an eye out for multiple shipments if you ordered more than one item.
WHAT WILL THIS PRODUCT DO FOR ME?
Increase your daily dose of essential nutrients
Get your diet back on track & kickstart healthier eating habits
Increase your energy levels naturally
Give your immune system a boost
Eliminate those unhealthy cravings that lead to weight gain
Why Raw Generation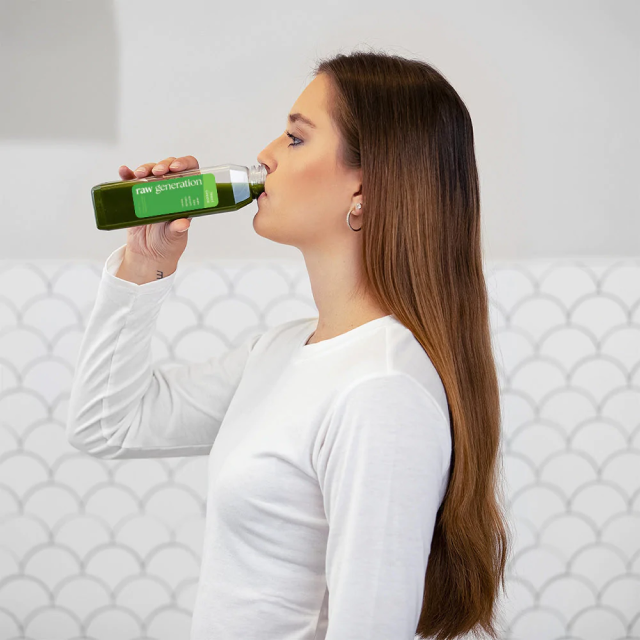 ALWAYS FLASH FROZEN
Flash freezing our products is something we will never change. Why? It's the only way to truly preserve and lock in flavor, nutrients, and enzymes. Other brands essentially cook out all these good things with their processing methods. Not us. This is as close to juicing at home as you will get. And even better, frozen means you can enjoy them whenever you want.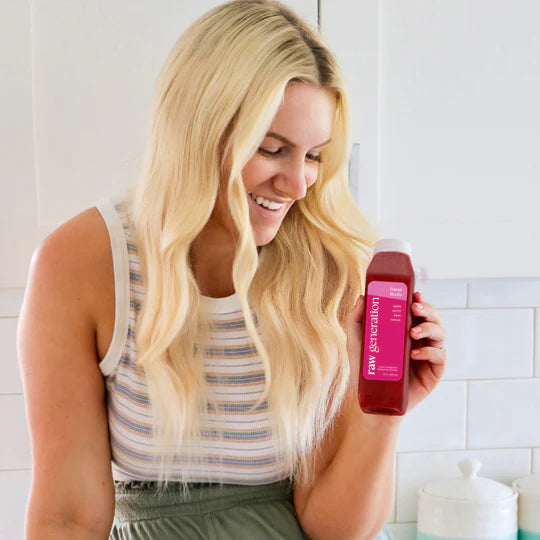 ONLY CLEAN, REAL-FOOD INGREDIENTS
When you put real food in your body, real changes will start to happen. Our cold-pressed juices, smoothies, and plant-based snacks are all made with ingredients that come out of the ground, not a laboratory. 100% real, nothing artificial. Ever.
HEALTHY SHOULD TASTE GREAT
How can you stick to something that you don't enjoy? You won't. That's why we prioritize flavor in everything we create. Our Quality Assurance team has strict standards, and if a product is not a 10/10 during the taste-testing phase, then it won't be coming to your door.