Healthy & delicious nutrition on-the-go
Sale price
$124.99
$149.99
Regular price
Unit price
per
Save on every order + free shipping.
Free enrollment in our Juice Club Membership.
Pause or swap at any time. Minimum 2 shipments required.
View full details
Overview

The Snack & Meal Pack was designed for anyone who is looking for truly nourishing healthy snack options and convenient protein-rich meals.Sip these drinks and flood your body with nourishment from anywhere—whether you are late to your work meeting or rushing to get the kids, you don't have to settle for junk.

The plant-based protein smoothies in this pack make a great meal replacement. Feel free to utilize smoothies as a high-protein snack, too, if you exercise or burn a lot of calories each day. However, if weight management is your goal, stick to smoothies for meals and juices for a satisfying snack, paired with a healthy diet full of fruits, veggies, and healthy whole grains.

Aside from nourishing your body with a filling snack or meal, our ingredients are rich in essential nutrients like amino acids, calcium, plant-based protein, and omega-3 fatty acids, which nutritionally support the body, help with weight management, boost energy, and enhance mental clarity.
What's Included & Ingredients
Nutrition facts
Shipping & Returns

Expect 1-3 business day transit time. All orders are shipped Monday - Friday.

Free shipping available with Autoship (does not apply to Hawaii or Alaska).

Juices will arrive frozen for optimal freshness. Reminder to keep an eye out for multiple shipments if you ordered more than one item.
Why Raw Generation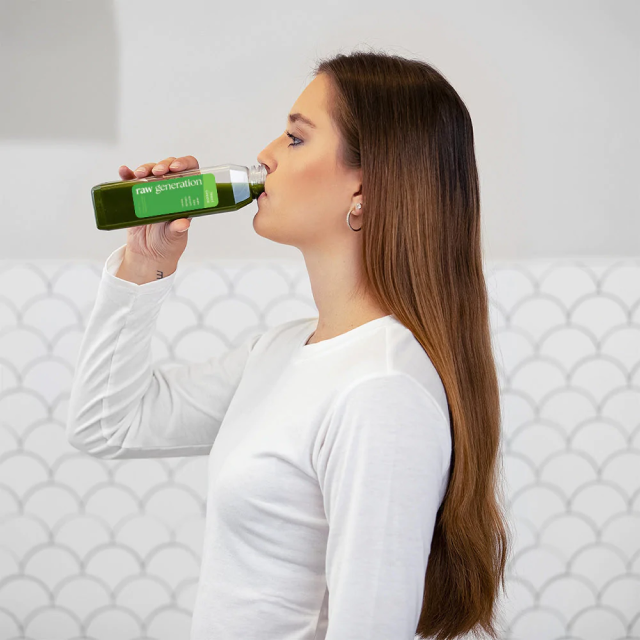 ALWAYS FLASH FROZEN
Flash freezing our products is something we will never change. Why? It's the only way to truly preserve and lock in flavor, nutrients, and enzymes. Other brands essentially cook out all these good things with their processing methods. Not us. This is as close to juicing at home as you will get. And even better, frozen means you can enjoy them whenever you want.
ONLY CLEAN, REAL-FOOD INGREDIENTS
When you put real food in your body, real changes will start to happen. Our cold-pressed juices, smoothies, and plant-based snacks are all made with ingredients that come out of the ground, not a laboratory. 100% real, nothing artificial. Ever.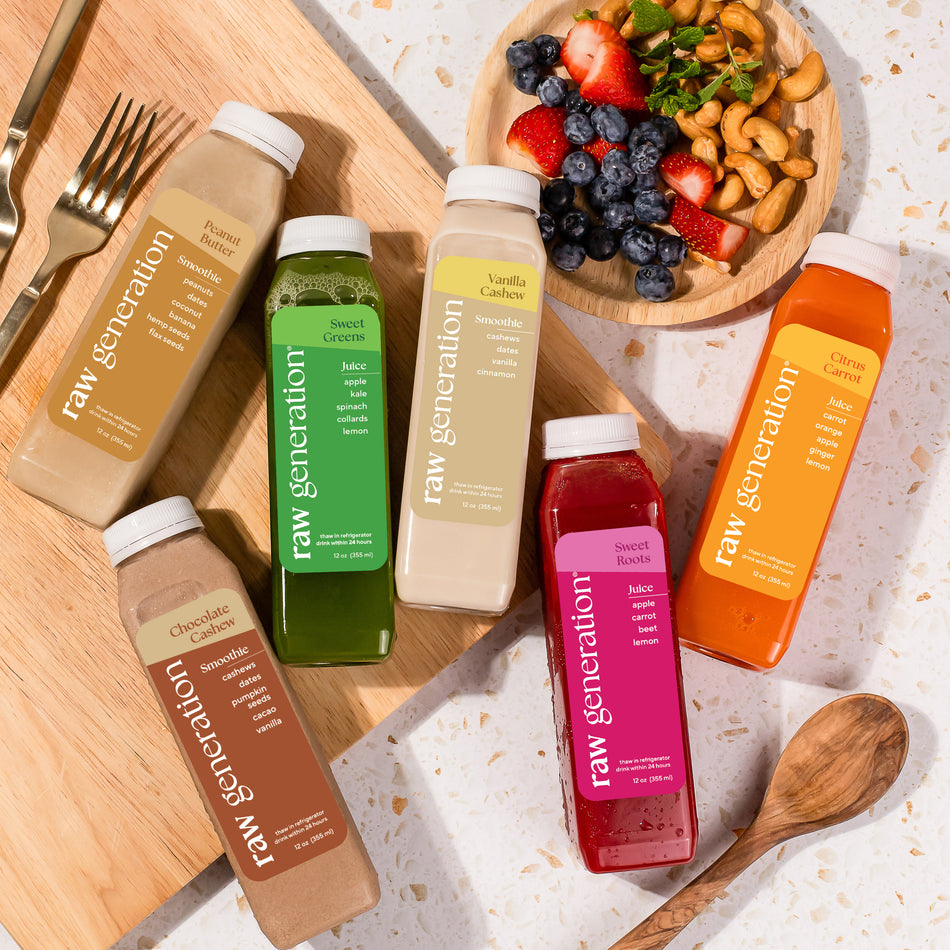 HEALTHY SHOULD TASTE GREAT
How can you stick to something that you don't enjoy? You won't. That's why we prioritize flavor in everything we create. Our Quality Assurance team has strict standards, and if a product is not a 10/10 during the taste-testing phase, then it won't be coming to your door. 
Compare Our Cleanses
Per Cleanse Day | 6 Bottles
| CLEANSE NAME | CALORIES | PROTEIN | SUGAR | FIBER | ACTIVITY LEVEL | GOAL | GREEN JUICES |
| --- | --- | --- | --- | --- | --- | --- | --- |
| Skinny Cleanse® | 850 | 25g | 140g | 12g | light | healthy weight loss fast | 3 bottles per day |
| Protein Cleanse | 1470 | 42g | 126g | 24g | moderate to intense | maintain energy & stamina while working out | 1 bottles per day |
| Lower Sugar* Detox Cleanse | 1030 | 47g | 74g | 23g | moderate | lower sugar options for healthy weight loss while increasing protein | 6 bottles per day |
| CLEANSE NAME | Skinny Cleanse® | Protein Cleanse | Lower Sugar* Detox Cleanse |
| --- | --- | --- | --- |
| CALORIES | 850 | 1470 | 1030 |
| PROTEIN | 25g | 42g | 47g |
| SUGAR | 140g | 126g | 74g |
| FIBER | 12g | 24g | 23g |
| ACTIVITY LEVEL | light | moderate to intense | moderate |
| GREEN JUICES | 3 bottles per day | 1 bottles per day | 6 bottles per day |
| GOAL | healthy weight loss fast | maintain energy & stamina while working out | lower sugar options for healthy weight loss while increasing protein |