Daily detox with a green juice or smoothie every day
Sale price
$124.99
$149.99
Regular price
Unit price
per
Save on every order + free shipping.
Free enrollment in our Juice Club Membership.
Pause or swap at any time. Minimum 2 shipments required.
View full details
Overview

Many people struggle with intense cravings that hinder them from reaching their weight loss goals. These cravings are often due to a lack of greens in the diet.

Dark leafy greens contain chlorophyll which is a rich source of vitamins, minerals, and antioxidants like vitamin A, vitamin C, calcium, and potassium. Your body needs these vital nutrients to eliminate cravings, improve gut health, strengthen your immune system, and increase your energy levels.

All the Green Routine fresh juices and smoothies contain chlorophyll-rich dark leafy green veggies like collard greens, spinach, kale, and Swiss chard. And they taste absolutely delicious - hands down they are the best green juice you will ever buy.

We make every green juice recipe and smoothie using only the healthiest raw ingredients. Our products are 100% free from additives and artificial sweeteners (no extra added sugar content here). Every recipe is vegan, raw, non-GMO, kosher, soy-free, keto-friendly, and gluten-free.

Green juices and green smoothies are both amazing for you, each carrying its own list of health benefits. Green smoothies contain all the fiber originally found in the plants, allowing you to feel fuller longer. Green juices remove that fiber, giving your digestive system a break and providing you with a light daily detox. So long as you're getting in your daily greens one way or another, you're on the right track!

The Green Routine is right for you if:

You're looking for an easy way to get in more greens each day.

You would like to improve your overall

wellness

.

You want to eliminate your unhealthy cravings.

You would like to ease inflammation and improve gut health.

You want to increase your energy levels.

You are a

beginner

in the juicing world and the thought of a full-on juice cleanse is a bit much.

You want the

dietary

health benefits

and health of green juices without having to set aside prep time

 to

make green juice

every day.

At Raw Generation, we believe that ease and convenience matter, which is why we do the dirty work for you. No need for lengthy ingredient lists or trying to find confusing "health items" in the grocery store. No mess of a juicer or hassle of using a Vitamix blender. Just your favorite green juices delivered straight to your door. (hashtag convenient)
What's Included & Ingredients
Nutrition facts
Shipping & Returns

Expect 1-3 business day transit time. All orders are shipped Monday - Friday.

Free shipping available with Autoship (does not apply to Hawaii or Alaska).

Juices will arrive frozen for optimal freshness. Reminder to keep an eye out for multiple shipments if you ordered more than one item.
WHAT WILL THIS PRODUCT DO FOR ME?
Eliminate those unhealthy cravings
Improve your digestion & overall gut health
Increase your energy levels naturally
Why Raw Generation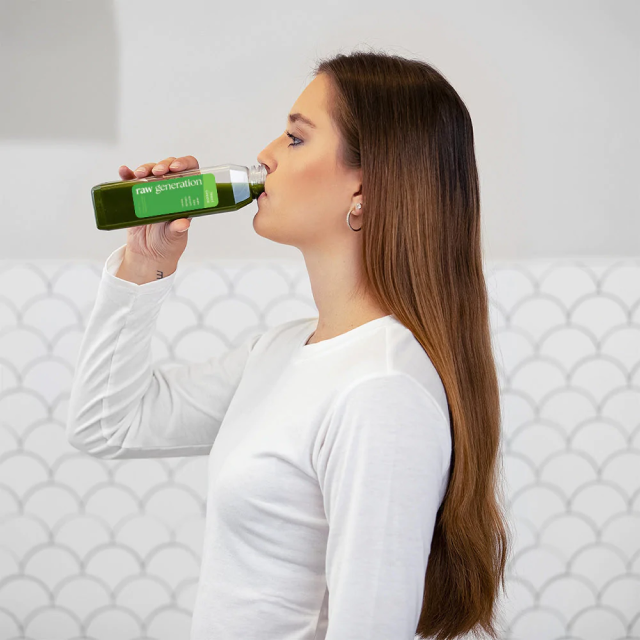 ALWAYS FLASH FROZEN
Flash freezing our products is something we will never change. Why? It's the only way to truly preserve and lock in flavor, nutrients, and enzymes. Other brands essentially cook out all these good things with their processing methods. Not us. This is as close to juicing at home as you will get. And even better, frozen means you can enjoy them whenever you want.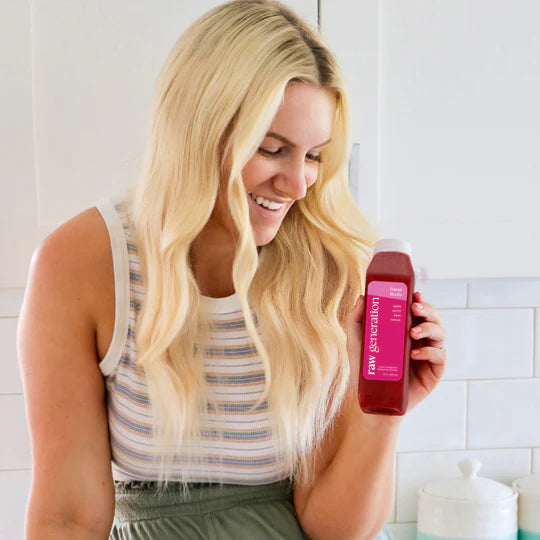 ONLY CLEAN, REAL-FOOD INGREDIENTS
When you put real food in your body, real changes will start to happen. Our cold-pressed juices, smoothies, and plant-based snacks are all made with ingredients that come out of the ground, not a laboratory. 100% real, nothing artificial. Ever.
HEALTHY SHOULD TASTE GREAT
How can you stick to something that you don't enjoy? You won't. That's why we prioritize flavor in everything we create. Our Quality Assurance team has strict standards, and if a product is not a 10/10 during the taste-testing phase, then it won't be coming to your door.