Easy morning ritual for better gut health
Sale price
$124.99
$149.99
Regular price
Unit price
per
Save on every order + free shipping.
Free enrollment in our Juice Club Membership.
Pause or swap at any time. Minimum 2 shipments required.
View full details
Overview

There are countless health benefits of celery juice. Drinking fresh celery juice daily can:

improve

gut health

aide in

weight loss

help with daily

detox

reduce

bloating

increase energy

promote glowing skin

Drinking celery juice helps you get in key vitamins and minerals like calcium, potassium, skin-healing vitamin A, immune-boosting vitamin C, vitamin K, and magnesium.

Fresh celery juice has anti-inflammatory properties and is packed with antioxidants that remove free radicals (damaged cells) from the body, helping to keep you youthful and healthy.

When celery is juiced and pulp is extracted, what's left behind is a green juice that has all the power of a superfood. It is full of natural sodium known as enzyme salts (not the dangerous-for-your-heath kind). This sodium binds to toxins, allowing your body to detox.

You've likely heard about how celery juice has taken the health world by storm. It's all over social media and in podcasts from the wellness community, mostly all referencing the work of Anthony Williams, The Medical Medium.

We recommend you drink 1 bottle of celery juice first thing in the morning on an empty stomach. Wait 20-30 minutes before eating or drinking anything else. Don't worry if you can't drink a full bottle to start with – start out slowly if you need to and gradually increase the amount you feel comfortable drinking each morning.

What's Included & Ingredients
Nutrition facts
Shipping & Returns

Expect 1-3 business day transit time. All orders are shipped Monday - Friday.

Free shipping available with Autoship (does not apply to Hawaii or Alaska).

Juices will arrive frozen for optimal freshness. Reminder to keep an eye out for multiple shipments if you ordered more than one item.
WHAT WILL THIS PRODUCT DO FOR ME?
Improve your digestion & overall gut health
Give your skin a needed glow-up
Replace electrolytes post-exercise
Why Raw Generation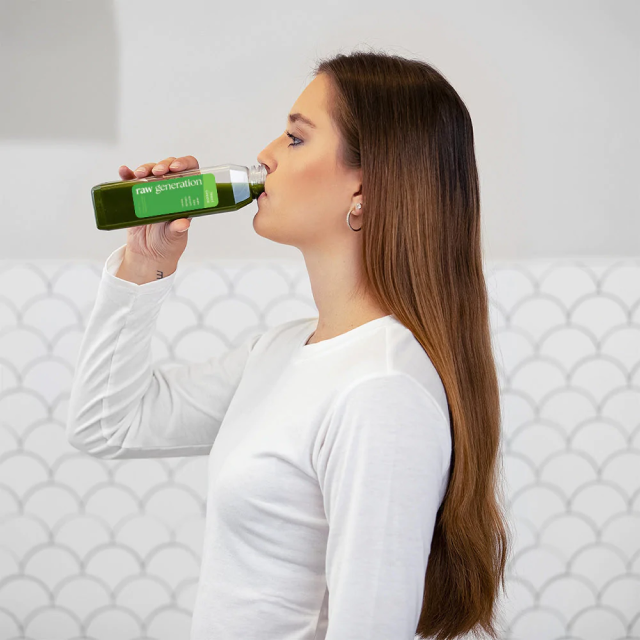 ALWAYS FLASH FROZEN
Flash freezing our products is something we will never change. Why? It's the only way to truly preserve and lock in flavor, nutrients, and enzymes. Other brands essentially cook out all these good things with their processing methods. Not us. This is as close to juicing at home as you will get. And even better, frozen means you can enjoy them whenever you want.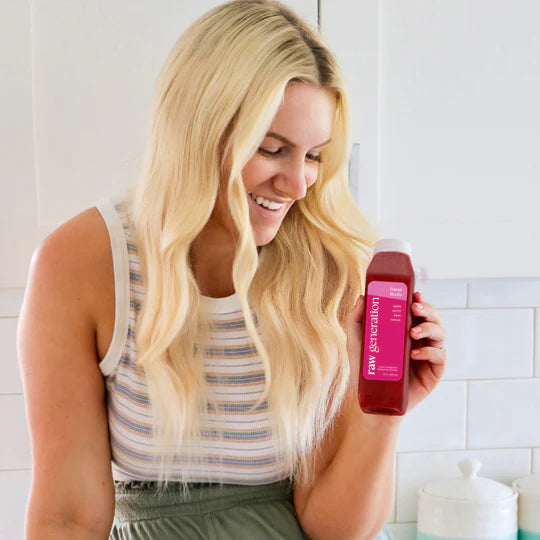 ONLY CLEAN, REAL-FOOD INGREDIENTS
When you put real food in your body, real changes will start to happen. Our cold-pressed juices, smoothies, and plant-based snacks are all made with ingredients that come out of the ground, not a laboratory. 100% real, nothing artificial. Ever.
HEALTHY SHOULD TASTE GREAT
How can you stick to something that you don't enjoy? You won't. That's why we prioritize flavor in everything we create. Our Quality Assurance team has strict standards, and if a product is not a 10/10 during the taste-testing phase, then it won't be coming to your door.